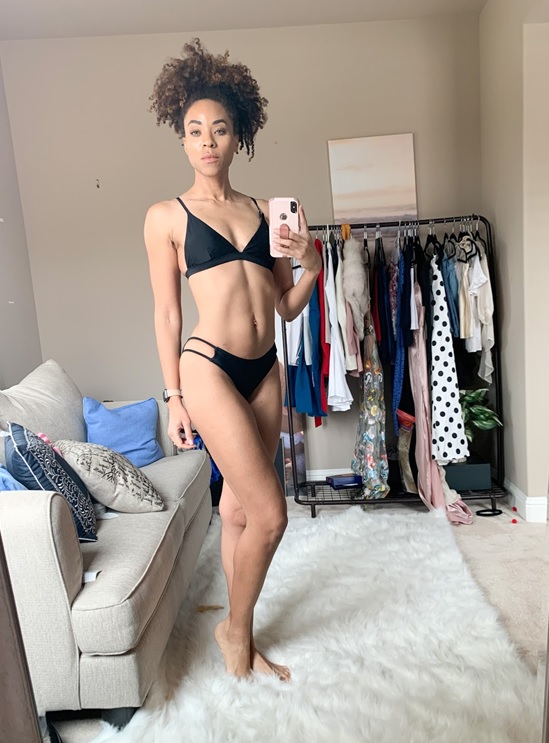 Have you heard of John Benton yet? He is widely known as the hip whisperer. This means he is really good at helping women of all sizes achieve slimmer and longer legs, tighter abs and overall leaner looking bodies. I am so excited to share my initial review of the John Benton Model fitness workout pdfs.
The basics of his program include lots of core work and pilates type leg movements. You won't find any squats in this work out yet somehow my husband even noticed that my butt is lifted.

My John Benton Experience
I started my journey with John Benton when my sister mentioned that one of her friends had great results on the program. John Benton's model workout is outlined in 4 different programs. My sister and I bought workouts 1 and 2 and traded notes.
First, let me say these workouts are NOT easy. It took me an entire month to get through workout number one without giving up. I followed John Benton on Instagram and continued to get inspired by the before and after photos of women of all ages. Most photos included captions of women claiming to have lost 2-4 inches in their hips and the same incredible measurements were accomplished in their waists. I had so much trouble finding a full review of the John Benton model fitness workout pdfs so I was nervous about giving it a try myself.
I have big dreams of reentering the modeling industry as a full-time model. In my mind, the only thing between this mother of 4 and her dreams of going back to the first career I ever loved was literally two inches in my hips and three inches in my waist. Despite the nerves, I took the leap and purchased my first John Benton Workout pdf.

My Journey to smaller hips and tighter waist
Many of the girls on John Benton's Instagram mentioned that they had tried his "full program." The full program includes all 4 workouts and a phone consultation with John Benton himself. I told myself if I could commit to doing workout one (which I purchased for $100) for an entire month, then I would invest the money to do the full program.
While considering this investment I couldn't find a lot of information about his program. As a result, it is important to me to share a few of the most common questions regarding the John Benton Fitness program. Feel free to comment on this blog post if you have additional questions after reading this blog post.
Q: How much is the John Benton Model Fitness
The model fitness programs range from $100-$1,000. The full consultation is $1,000. But you can also buy his workouts a la cart. The a la cart workouts range from $100- $400. You don't have to get the full consultation to get the benefits of John Benton's workouts. If you live in the Houston area he has a studio where you can take one of his classes. But if you don't (and I don't) then you can buy one of his programs online.
Q: Which John Benton Workout should I buy?
I would absolutely recommend buying the John Benton Workout pdf number one. Work out one feels like the most comprehensive workout of all the a la cart workout plans. (Especially now that I have all his online workout programs, which came with the full consultation.) Workout plan one includes cardio, core work, and leg work. John Benton Work out pdf 1 is a challenging work out even for a former division one basketball player like me.

Q: How often should you do John Benton's model workout?
This question was the most mysterious to me before having the full consult, and I am so happy to share this information. John Benton said you could do it as little as 4 times a week and as often as twice a day.
I did this work out 5 days a week for 4 weeks, then moved to three times a week. When I did the full consultation, I learned that you could supplement his workouts with yoga or pilates so you didn't get bored with his model fitness routine. I chose to do pilates and yoga and rotated between yoga and pilates 2-4 days a week (because I did find myself getting a tiny bit bored with cardio). I continued to the John Benton work out 3-4 days a week. In essence, I was doing two workouts on some days. But I did skip the cardio portion of his workouts when I did yoga or pilates on the same day.
The difference to me between yoga, pilates and John Benton's workouts is that neither yoga or pilates was helping me to get a tight core. I know because for about a month I only did yoga and pilates and noticed that my core measurements stalled even though I was getting stronger and feeling leaner. The moment I added John's workouts back to the mix I immediately noticed a change in my core and hip measurements.
I think the magic is in the sequence and the specific type of exercise that he outlines in his routine. Due to child labor, I have trouble running and jumping so I chose to supplement the cardio for yoga and pilates. I am confident that had I done the workouts as outlined I would be even closer to my goal.

Q: How challenging are the John Benton workouts?
I am not going to lie! These workouts are tough. It made me appreciate models so much more!
I always thought model bodies were built because they didn't eat! LOL! But after doing these workouts for several months I now understand that models (at least the ones who train with John Benton) are physically very strong. And those long lean bodies are the results of an incredible amount of work.
If you take the leap and do the John Benton program be prepared to sweat!

Q: Are the time suggestions on the workouts accurate?
Not at first. Most days I can not get through the John Benton Model fitness workouts in an hour and a half. Generally, I set a timer and just try and get through as much as I can in an hour. My goal is to get a little further each time. I vividly remember the first time I actually got through work out 1 in an hour. I felt like baby hulk and was ready to through my couch in victory! LOL
Be encouraged that even if you don't get through the entire workouts you will still get stronger. And for several weeks I did half the workout in the morning and half in the evening because I generally try to work out before I go to work in the morning, but I found that I couldn't fit the entire workout in without getting up with the sun.
Q: Is there a John Benton nutrition plan?
The short answer… No. But if you do the full phone consultation John Benton does briefly talk to you about your existing diet and gives a few general tips to support your work out plan. I won't share the details here because I want to respect his business. But please note I did find the workouts valuable even before I did the full consultation, and lost an inch in my waist and hips in that first month before doing the consultation and while only doing exercise one.
John Benton does discuss a nutrition plan for his full consultation but it is not the main focus of his workout plans and it is also not the main focus on his workout PDFs.

Q: Is the full consultation worth it?
First, understand that the full consultation is $1,000. So that is definitely an investment. But for me, this was an important investment for my goals. I did appreciate that speaking with John Benton made it clear to me that he had a true system of getting women the long lean bodies they desired. It was also valuable to get real-time answers to some of my questions about the exercises. John was friendly and surprisingly easy to talk to you. I thought he would come across as someone with an ego since he worked with supermodels all day, but he was very humble and kind. I felt comfortable asking him even "dumb" questions.
I most appreciated that his nutrition advice didn't include counting calories and that he was completely aware that a diet too restrictive could trigger unhealthy habits in aspiring models.

Q: Would you recommend the John Benton Model workouts?
If you are ready to put in work… then YES! But if you are looking for a casual workout plan then find a video on youtube. LOL The John Benton workout is the real deal! And if you put in the work, you WILL see results. I didn't think I would EVER see these types of results in any workout plan especially after having three kids, But the John Benton workout lifted my but and shrunk my hips and isn't that what every girl wants!!!
Insider Tips
One movement is one rep. The counting on the program is a little tricky. Generally speaking, if the reps are over 25 in the John Benton workout pdf, you would count the movement on your left and right side as two reps. For example, if there are 50 criss-cross sit-ups its 25 each side. That was a little confusing for me at first, but when I learned how to count the reps, my work out time was cut in half.
Don't take long rests between exercises. The workout is meant to be done with very little rest between exercises. John Benton outlines the workouts in groups of three. The trio of exercises is meant to be done back to back for about 3 times depending on the instructions of the workout before you take a break. The rhythm should feel similar to high-intensity interval training. If you are not winded between exercises you probably are resting too long in between.
Tiny movement in your crunch! I did have the privilege of attending one of John Benton's Live workouts in Los Angeles. It was great to actually hear him coaching the moves as we did them and one thing I was doing incorrectly that you might be doing as well is the crunches. In John Benton's methodology, the crunch is a tiny movement. It is much more about being explosive and contracted then about the range of motion.
Watch the videos. If you haven't done any of his workouts don't' worry there are short videos that accompany each exercise that break down the move. Pay attention to the range of motion in the demonstration video to help ensure you are getting the most of each move.
My goals
So far I have lost three inches in my waist and three inches in my hips. Before this journey began, I thought losing four inches would be impossible. Now I think it is totally within reach. And I am not starving myself!! #winning and I am not a slave in the gym! #winningagain
I am very happy with where I am right now, but I still have one more inch to squeeze out to get to my goal. I will probably continue to do yoga and pilates 4-5 days a week. And I will also increase my John Benton workouts to 4-5 days a week also. I am only increasing the frequency because I am sooo close to my goal I can literally feel it.
Check back in for Updates
I promise to check back in with before and after photos, once I get to my final goal in a few months. Please subscribe to my blog so you can see my updates. And please follow me on Instagram if you don't already.
If there are questions that I didn't include that you want me to include in part 2 of this blog post please don't forget to leave it in the comments which you can find if you scroll all the way to the very bottom of this blog post.
xo – Chantea
Check out my other blog post: How to become a model